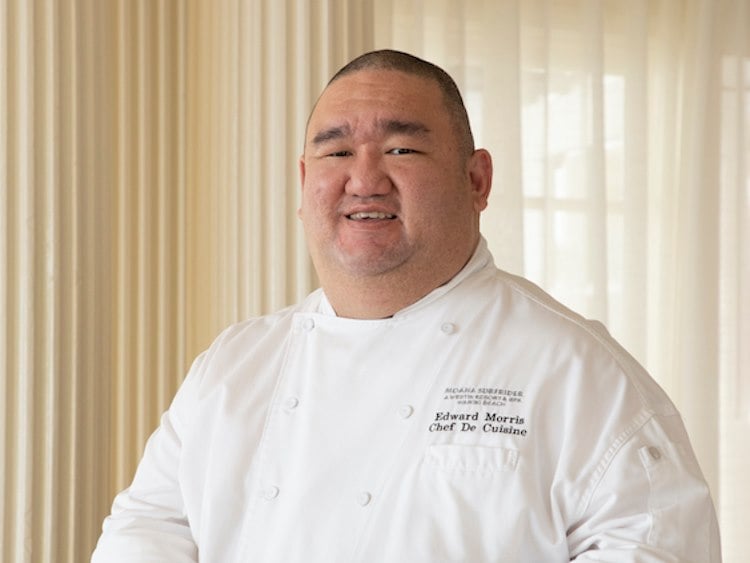 Chef Ed Morris, Chef de Cuisine, Beachhouse at the Moana
Ed Morris is the kind of chef who was born to be a culinarian. He grew up watching his mother and grandmother make kimchi. In fact, his mother is the former owner of local Hawaii eatery, Choi's Family Restaurant, where he started as a dishwasher and porter when he was 14.
Chef Ed has broad culinary experience in Hawaii with previous positions with EARL Sandwiches, Side Street Inn and DB Grill. He got his start in 2005 as head chef and partner at Choi's Family Restaurant. From there, he also thrived in his positions at Aulani and the Four Seasons Oahu, where he helped to reimagine their fine-dining experiences.
In joining the Moana Surfrider, A Westin Resort & Spa as Chef de Cuisine at the Beachhouse at the Moana, Chef Ed joins a team that has been creating extraordinary memories for guests at one of the best al fresco restaurants in Waikiki. Chef Ed has been introducing new items to the three- and four-course dinner menus, as the Beachhouse continues to be a popular spot for visitors and kama'āina. He says using many locally sourced ingredients and some of the best seafood in Waikiki helps to elevate the menus, creating high-caliber, high-quality dishes. One of the items on the Beachhouse's current menu is a stellar, 28-day-aged, 14-ounce macadamia nut crusted pork chop. He also says that the kalbi-braised short rib dish is near and dear to him.
What inspires Chef Ed the most about being in the kitchen is the creative aspect of it. He says a few years after college when he was at renowned local bar and restaurant, Side Street Inn, he got a real sense of fulfillment when he saw customers enjoying his food.
To Chef Ed, family is everything. He says his father gave him the family values that he carries with him today….and tries to pass them on to his 11-year-old son, Thomas. When he's not at work, Chef Ed spends time with Thomas fishing, trying new restaurants, or adding to his cooking library.